Events
13 November 2016
16:00
Theater Diligentia, Lange Voorhout 5, Den Haag
CANCELLED: One Happy Kingdom (in Dutch)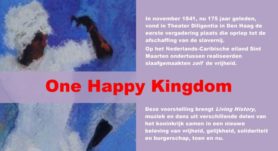 [UNFORTUNATELY THIS EVENT HAS BEEN CANCELLED]
In november 1841, nu 175 jaar geleden, vond in Theater Diligentia in Den Haaf de eerste vergadering plaats die opriep tot de afschaffing van de slavernij, Op het Nederlands-Caribische eiland Sint Maarten ondertussen realiseerden slaafgemaakten zelf de vrijdag.
Deze voorstelling breng Living History, muziek en dans uit verschillende delen van het koninkrijk samen in een nieuwe beleving van vrijheid, gelijkheid, solidariteit en burgerschap, toen en nu.
Met o.a. Grand Lady of Jazz Anastacia Larmonie, First Lady of St Martin Dance Clara Reyes.
Prijs €12,50
Kaartverkoop: Theater Diligentia
www.diligentia-pepijn.nl